Learn BuildRoyale.io Gameplay
An .io game, Buildroyale.io has been developed by GoalieSave25, who has also created the game Shootem.io. This is a 2-dimensional Battle Royale game where you are supposed to kill every opponent. It is based on Fortnite and has a one-of-a-kind feature that lets you place walls down. Your aim during the Buildroyale.io gameplay is to kill every enemy and be the last one standing as the winner.
What are the Buildroyale.io Gameplay Rules?
This game has a very high number of players but it is very easy to play and learn the rules of the game. So many players liked this game and started to play. Let's take a look at the rules of the game.
You have to kill every other player, but take care that you do not end up dying.
This is not a deathmatch, and you do not have the opportunity to get many lives. Once you die, you have to begin it all over again. Thus, you need to be more careful while playing.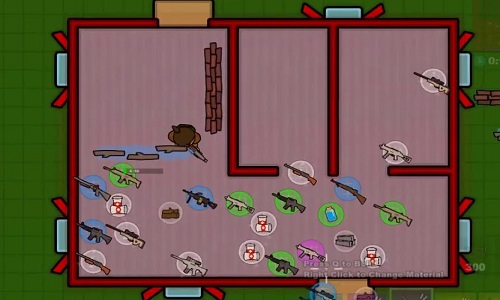 It lets you use the new extra option to erect fortifications to save yourself. This formula has already been tested in the game Fortnite. The Buildroyale.io game is a much-simplified version of the Fortnite game. While there is the option to construct protective walls, it does not guarantee your survival. You have to fight skillfully.
The Battle Royale zone shrinks gradually in the Buildroyale.io gameplay, and you have to avoid the restricted area.
How to Survive in the Game?
You have to get into a field that is choc-a-bloc with 99 other players who will be dressed in cute Santa costumes. Make no mistake, however, as there lies viciousness beneath all that cuteness. All of them are ready to blow you up to the moon. You have to begin with a huge candy stick to protect yourself, and start collecting materials such as metal, stone, and wood for constructing a protective wall around yourself. While in battle in Buildroyale.io gameplay, if you manage to build the wall entirely, it will offer you protection from all the enemies. You have to collect or craft all types of resources that will prove to be useful to you in surviving in this dangerous territory.
You have to be on the move constantly, and break, build and kill all enemies to upgrade your loot. The game will pit you against many other players in a huge gun battle where the sole objective is to be the last player standing.
Once you step into this game field, you will come across lots of confusing things. You can discover all those only through learning other players, experimenting, and mucking about in the Buildroyale.io gameplay map.